In our story about the lessons learned from the first Closed Alpha, Devs. promised that there would be more opportunities for select players to get an early hands-on with Battlefield V before the October launch. Today, they're telling players all they need to know about Battlefield V Closed Alpha 2, set to start on August 14 and run for a limited time.
This is a short play test and we will need as many invited players as possible to act fast and jump into our Closed Alpha servers in order to make it successful.
Note that game content, gameplay mechanics, and other Battlefield V aspects covered in this article may change between the Closed Alpha and the game's launch.
Is the Closed Alpha the Same as the First Closed Alpha Build of Battlefield V?
The second Closed Alpha is built directly from the first Closed Alpha and it will not contain any changes to the available maps, modes, weapons and vehicles. However, there are a few important changes they want to evaluate with you.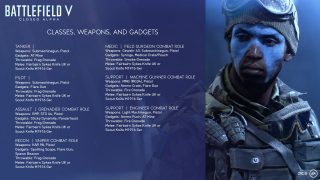 What Is Being Tested?
The focus of this test is player progression speed. They have made some changes that they think will better cater to players across all play styles and skill levels based on how fast players scored points, and how quickly they progressed through the ranks in the first Closed Alpha.
They've also made improvements to matchmaking and fixed issues related to joining squads.
Gameplay aspects such as map, weapon, and vehicle balance are still being tested so that they can make sure matches are fun, fair, and reward skilled players. They are also assessing our new systems, like attrition and soldier movement, to find that gameplay sweet spot. On the technical side, they're assessing Battlefield V in a live environment. Think, server stability, backend connectivity, and matchmaking.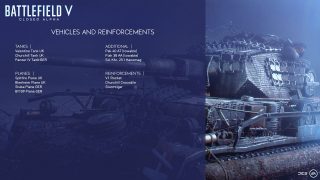 Why Are You Doing a Closed Alpha?
On the heels of last month's Closed Alpha and the lessons learned therein, it will be another opportunity for them to stress-test servers and improve several aspects of the game, thanks to the participation and feedback from those taking part. Each test and the resulting feedback will help ensure Battlefield V stability, balance, and more as they work our way towards the October launch.
And while this is certainly a test of the game, the Closed Alpha is as much, if not more, about giving players a fun hands-on experience with Battlefield V.
They've read and acted on much of the feedback that they received during the first Closed Alpha. You'll get a better glimpse of those changes during our Open Beta period, but for Closed Alpha 2, they would like you to focus on the matchmaking, squad joining functionality, as well as simply playing as you normally would, so that they can evaluate our tweaked leveling curves.
Who Can Join the Closed Alpha?
The Battlefield V Closed Alpha is invite-only. It is designed for PC players, will be in English only, and will be available in these regions:
Europe: Austria, Belgium, Bulgaria, Switzerland, Cyprus, Czech Republic, Germany, Denmark, Estonia, Finland, France, Great Britain, Georgia, Greece, Croatia, Hungary, Ireland, Isle of Man, Iceland, Italy, Liechtenstein, Lithuania, Luxembourg, Latvia, Moldova, Montenegro, Macedonia, Malta, Netherlands, Norway, Poland, Portugal, Romania, Serbia, Sweden, Slovenia, Svalbard & Jan Mayen, Slovakia, Spain, San Marino, Turkey.
North America: Canada, Mexico, United States.
How will Invitations Work?
Invitations with codes for the Closed Alpha will soon be sent to a small group of Battlefieldplayers. These codes can be redeemed in the Origin client.
Players that have a valid Battlefield V Closed Alpha entitlement from the first Closed Alpha on Origin are automatically invited back into the Closed Alpha 2. Just reinstall it when it becomes available in the Origin client. Those that have already redeemed their codes will indeed get an email with the same code, just in case.
Codes that have not been redeemed yet can also be used to access the Closed Alpha 2. Additionally, they will be sending out more invites through email to give even more players the chance to try Battlefield V.
When will the Battlefield V Closed Alpha 2 Be Live
The Closed Alpha will begin on August 14 and will be available for a limited time only.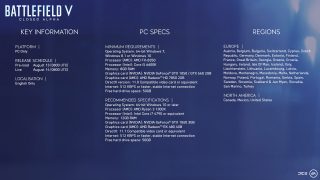 What are the System Requirements?
Minimum requirements:
Operating System: 64-bit Windows 7, Windows 8.1, or Windows 10
Processor (AMD): AMD FX-8350
Processor (Intel): Core i5 6600K
Memory: 8GB RAM
Graphics card (NVIDIA): NVIDIA GeForce® GTX 1050 / GTX 660 2GB
Graphics card (AMD): AMD Radeon™ HD 7850 2GB
DirectX version: 11.0 Compatible video card or equivalent
Internet: 512 KBPS or faster, stable Internet connection
Free hard-drive space: 50GB
Recommended specifications:
Operating System: 64-bit Windows 10
Processor (AMD): AMD Ryzen 3 1300X
Processor (Intel): Intel Core i7 4790 or equivalent
Memory: 12GB RAM
Graphics card (NVIDIA): NVIDIA GeForce® GTX 1060 3GB
Graphics card (AMD): AMD Radeon™ RX 480 4GB
DirectX: 11.1 Compatible video card or equivalent
Internet: 512 KBPS or faster, stable Internet connection
Free hard drive space: 50GB
Please note that these specifications are for the Closed Alpha and not necessarily for the final game.
What Modes and Maps will the Closed Alpha Contain?
Conquest mode or the Grand Operation Fall of Norway. Taking place on the map Arctic Fjord, Fall of Norway lets you experience two of its in-game "days" and play two of the modes that the Grand Operation strings together: Airborne and Breakthrough.
When playing Airborne, you'll either paradrop down to the battlefield to deal with enemy artillery, or counterattack if you're on the opposite team. In the frantic fights of Breakthrough, you must capture sectors as an attacker or keep the opposition at bay through on-the-fly planning.
As for Conquest – this is the timeless Battlefield classic where two teams use infantry and vehicular combat to seize a majority control of key control points.
Are There In-Game Challenges and Rewards?
No, the second Closed Alpha will not have any Special Assignment or Daily Orders, as this time they are focused more on testing gameplay fixes.
Can I Capture Video and/or Stream Gameplay from the Closed Alpha?
Absolutely! Participants are free to share footage of their Closed Alpha sessions, as there are no non-disclosure agreements in place. they're excited to see the content you create and to hear your constructive feedback, so make sure to tag our official Battlefield channels when your content is live.
For our console players, they also want to hear what you think of the Closed Alpha. As there is no embargo in place for captured/streamed content for Closed Alpha #2, please keep an eye on gameplay videos and streams that will likely show up shortly once the Closed Alpha has been launched. Let them know if you have any feedback for them.
They are Counting on You
Remember that this is a short but critical play test and will need as many invited players as possible to flood our Closed Alpha servers in order to make it successful.
– Alexander Hassoon, live producer