JANUARY 27, 2022
BUG FIXES
Mercy
Fixed issue where allies being resurrected mid-air were falling earlier and faster than intended
Fixed issue where resurrect markers were not properly showing for allies that died over environmental death pits
JANUARY 25, 2022
A new patch is now live on PC, Xbox, PlayStation, and
Nintendo Switch. Read below to learn more about the latest changes.
SEASONAL EVENT: LUNAR NEW YEAR 2022
Seasonal Event: LUNAR 2022 – YEAR OF THE TIGER
Celebrating Lunar New Year with luminous new seasonal items, including legendary skins Nezha Tracer and Seolbim Mercy! Additionally, this event launches the fifth competitive season of Capture the Flag, and the Bounty Hunter mode has returned!
HERO UPDATES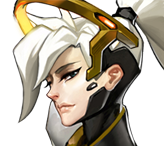 MERCY
Resurrect
Previously, if a teammate died over a death pit their resurrect marker was hidden and fell into the pit. Now, Mercy will see their resurrect marker and can resurrect before it falls to the bottom.
Mercy can now attempt to resurrect teammates who die over environmental death pits
When resurrecting, the resurrect marker will now freeze in place for the duration of the resurrection
Holding the ability button for resurrect while it's on cooldown will now attempt the resurrect once the cooldown finishes
BUG FIXES
GENERAL
Fixed an issue where Season 32 open queue stats were not appearing in career profile
MAPS
Addressed a geometry exploit on Watchpoint: Gibraltar
HEROES
Ana
Fixed a bug that caused Ana's Scope to activate when cancelling Nano Boost target confirmation
Fixed a bug that caused the parrot on Ana's Corsair skin to disappear in hero select
Symmetra
Fixed a bug that caused Symmetra's name plate to appear in the middle of her model
Addressed an audio issue during Symmetra's "Have a seat" emote
JANUARY 06, 2022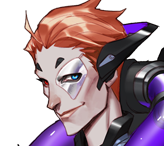 MOIRA
Fade
Can now jump much higher while using this ability
REINHARDT
Earthshatter
Now deals an additional 200 damage within 1.75m of the impact area
HANZO
Storm Arrows
Arrows ricochet once upon impact
CASSIDY
Combat Roll
Can now roll while in the air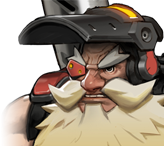 TORBJÖRN
Rivet Gun – ALT Fire
Ammo cost decreased from 3 to 2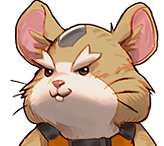 WRECKING BALL
Grappling Claw
Now has a maximum grapple time of 6 seconds
BUG FIXES
Heroes
Hanzo
Fixed a bug that caused Storm Arrows to go through barriers
Reinhardt
Fixed a bug that cause Earthshatter to penetrate through barriers and walls