FROM THE DEVELOPERS:
RG here, looking to provide you with the details of our second salary cap update of the season that is scheduled to go live this Friday, December 6th. We are very excited about this update as it will represent the salary cap settings competitors will likely be playing on during the Madden Club Championship taking place 12/17 – 12/20. Without further ado let's dive right into the changes.
Below are some of the things you can expect in today's Salary Cap Update:
Total cap is increasing from 825 to 950
Minor cap changes to some Core Gold Players as well as some Base Elite Kickers & Punters
December Player Cap Updates
Minor tuning to the cap cost of some abilities
December Ability Cap Updates
Note: Due to some unforeseen technical limitations we sadly had to forgo adding the extra HB slot into the salary cap roster requirements as originally planned.  
This update is scheduled to go live around 10:25 AM EST on Friday, December 6th.  We suggest users complete any active salary cap events before the update time to avoid potentially getting matched up with teams that will be on the updated cap.
For reference a breakdown of our remaining Salary Cap update schedule is shown below (Note: Schedule is subject to change):
Update 3 = January 28, 2020


Milestone = Occurs day the LCQ ladder starts

Update 4 = February 28, 2020


Milestone = Occurs halfway through LCQ ladder

Update 5 = April 4, 2020


Milestone = Occurs the day after LCQ online elimination ends. This is the final update before Madden Bowl

Update 6 = May 2020 (TBD)


Milestone = Last update of year after Madden bowl
As always, we will be monitoring community feedback around these changes so we can take it into account for future updates.
– RG (Follow RG on Twitter @RG_Madden)
COMMUNITY SPOTLIGHT
What is Madden Live? Madden Live is an EA Partnership program where every month we feature Madden Twitch streamers who will stream with Twitch Drops enabled on their channels. In an effort to capitalize on the continued growth of Good Morning Madden (GMM), we want to extend that viewership to the larger Madden Twitch directory.
Here is the upcoming schedule for Madden Live for next week.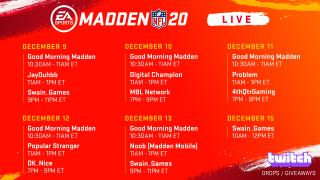 Make sure to follow @EASPORTS_MUT on Twitter and GMM Monday through Friday at 10:30AM ET on Twitch (www.twitch.tv/EAMaddenNFL) to find out who is streaming on Madden Live week to week.
COMMUNITY QUESTIONS
Just a reminder, if you have any questions regarding Madden 20, please let us know. You can send your questions to us on Twitter at @EAMaddenNFL and @EASPORTS_MUT or share your feedback on our EA Forums here.
Each week, our community team will be working with the Madden development teams to get you answers and context around your Madden 20 questions.
Here are some great questions we have received from the community about Madden 20. Again, thanks for taking the time to ask your questions. We appreciate it!
Q: When will the new Football Outsiders for the month of November be coming to Madden Ultimate Team?
A: Football Outsiders for the November Standouts will be coming to Madden Ultimate Team on Sunday, December 8th. For a list of the November Standout players, check out the Week 13 DVOA Ratings article at Football Outsiders. Keep a look out for Football Outsiders player ratings reveal on @EASPORTS_MUT on Twitter over the weekend.
Q: When is the Series 4 Update coming to Madden Ultimate Team?
A: The Series 4 Update is targeted to release on Friday, December 13th. If anything changes, we will make sure to let players know.
For those that did not attend the Madden Ultimate Team Reveal Livestream on July 22nd, we highlighted that Series trophies this year have moved to a type of currency this year in Madden Ultimate Team. This means that on Friday, December 13th, your current Series 3 trophy currency will automatically convert to Series 4 trophy currency. The conversion value for a previous Series program to a new Series program is half. For example, if you have 100 Series 3 trophies in your currency bucket, then they will convert to 50 Series 4 trophies in your currency bucket when the new Series Update launches.
Also, this year, there has been a change to how Limited Time (LTD) player items work in game. With each Series update, the LTD player items in the previous Series will be available in packs as non-LTDs. The key changes you will see on the non-LTD player items are as follows:
The player item artwork will have a different border and stamp, and the LTD icon will be removed
The player item will no longer quicksell for 250,000 coins but quicksell for the appropriate amount of training based on the player items Overall (OVR)
Please note that existing LTD player items in Series 3 will remain unchanged, including their quicksell value. Only the new, non-LTD versions of these player items being introduced in packs for Series 4 update will not quicksell for coins, as they are not LTD in nature.
The following list of LTD player items after Series 3 launched will be available in packs at the start of the Series 4 update:
Madden Ultimate Team 10
Legends
Donald Driver
Brian Bosworth
Matt Birk
Signature Series
Derek Carr
Damarious Randall
Ezekiel Elliott
Lavonte David
Cooper Kupp
Quinton Dunbar
Carson Wentz
Avery Williamson
O.J. Howard
William Jackson
DeVante Parker
Justin Simmons
Team of the Week (TOTW)
Aaron Rodgers
Tevin Coleman
Brennan Scarlett
Christian Kirk
De'Vondre Campbell
Fabian Moreau
Most Feared
Dantel Hall
Calais Campbell
MUT Blitz
Chris Johnson
Lamar Jackson
Bradley Chubb
Darren Waller
Donte Jackson
Marquise Brown
Dalvin Cook
Justin Reid
Lane Johnson
Robby Anderson
Jaylon Smith
Josh Allen
Kyler Murray
Bryce Callahan
Mark Andrews
D.K. Metacalf
Jerome Baker
Trae Waynes
Montez Sweat
Margus Hunt
Matt Breida
Johnathan Abram
John Ross
Chase Winovich