The main new feature in this update are burials.
We are also adding Metal Age versions of the Granary and Stables (which have increased capacity) and a ton of other improvements.
To get this version: Right click on Dawn of Man in your library > Properties > Betas Tab > Choose experimental branch from the dropdown.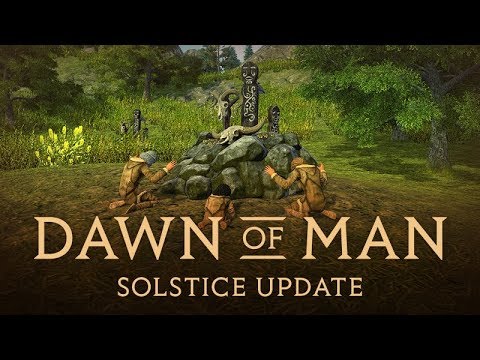 Burials
When people die, they will get taken to a burial structure and mourned.
This process allows people to recover the morale they lost when that person died.
There is a new Burial Mound structure, and the existing Dolmen and Cairn buildings have been repurposed as funerary structures as well.
New Structures
Burial Mound
A small tomb where to bury your dead.
Staddle Granary
An Iron Age upgrade for the Granary, can hold more items.
Stone Stables
An Bronze age upgrade for the Stables, can house more animals.
New Techs
Funerary Rituals
Unlocks the Burial Mound structure.
Staddle Stones
Unlocks the Staddle Granary structure.
Hunting
Rebalanced danger levels and the amount of hunters that go to attack each type of animal.
Fixed issue with hunt work area tasks always sending 1-3 hunters.
Population
Relaxing population limits a bit more, it should now be possible to reach 300 people.
AI Improvements
People are now more efficient when gathering resources from hunts.
People will now take food from transports if extremely hungry.
UI Improvements
Added workload to general panel.
Environment temperature bar has been replaced by an more compact icon with a tooltip.
Traders now indicate the gender of the animals they are offering.
Fixed issue in savegame name input, where all text wasn't always selected.
Savegames and town names can now include the dash character.
New settings
Added option to disable edge scrolling.
Added option to toggle fullscreen.
Added option to change UI sound volume.
Settings that can be set on or off now use a toggle UI.
Misc
Up to two people can now use the Menhir at once.
Up to four people can now use the Stone Circle at once.
Collect and harvest wild plants work area now properly obeys resource limits on a per plant type basis.
Flax re-added to collect and harvest wild plants work area.
Mining work areas now show resource limits for all 3 types of ores.
Fixed issue with mining work areas sometimes reporting that they were exhausted when it wasn't true.
Fixed graphical issues with materials of new work areas and entities during primal vision mode.
Removed stats window from main menu, as we didn't manage to get this to work properly.
VSync settings now work properly in windowed mode.
Fixed issue where trader animals could breed with yours.
Traders will only bring straw from the neolithic onward.
Fixed issue with panel widths when the help button was present on top.