Red Dead Online got its latest beta update today, further expanding the game with another all new game mode. Additionally, players will find a new rotation of limited goods in the Wheeler, Rawson & Co. Catalogue allowing them to further customize their characters.
The latest game mode is Up In Smoke, one of the several Showdown Series modes announced by developers last month. Two teams seek to destroy the camp of their enemies. All players carry an explosive package that they need to deliver to the enemy camp.
Upon delivery, the payload will detonate, taking a chunk of the camp with it. Only by delivering every explosive to the camp will the whole thing be destroyed. Of course, the others will try to stop you with their bullets, and you too need to prevent enemy players from delivering their explosives to your camp.
This week players can also enjoy a 30% boost on all Ability Card XP. Ability Cards allow you to tailor the skillset of your character to your liking, adding a minor RPG spin on the game and ensuring that not every character is a copy of one another in terms of gameplay.
Ability Cards have 3 tiers, which increase the given ability's potency with each upgrade. Now, players will accumulate the needed XP to boost their Ability Card tiers quicker, giving them a leg up on the competition. Sometimes these cards may mean the difference between life and death.
A number of new items were added to the in-game store today which will only remain available through the 8th of April. These include the Winter Shotgun Coat, the Benbow Jacket, the Darned Stockings and the Manteca Hat. So far we haven't seen any limited issue item ever pop up after its deadlin,e so chances are these will be gone forever next week.
This week's additions to the Wheeler, Rawson and Co. Catalogue include:
Winter Shotgun Coat
Benbow Jacket
Darned Stockings
Manteca Hat
RED DEAD ONLINE BETA: THE ROAD AHEAD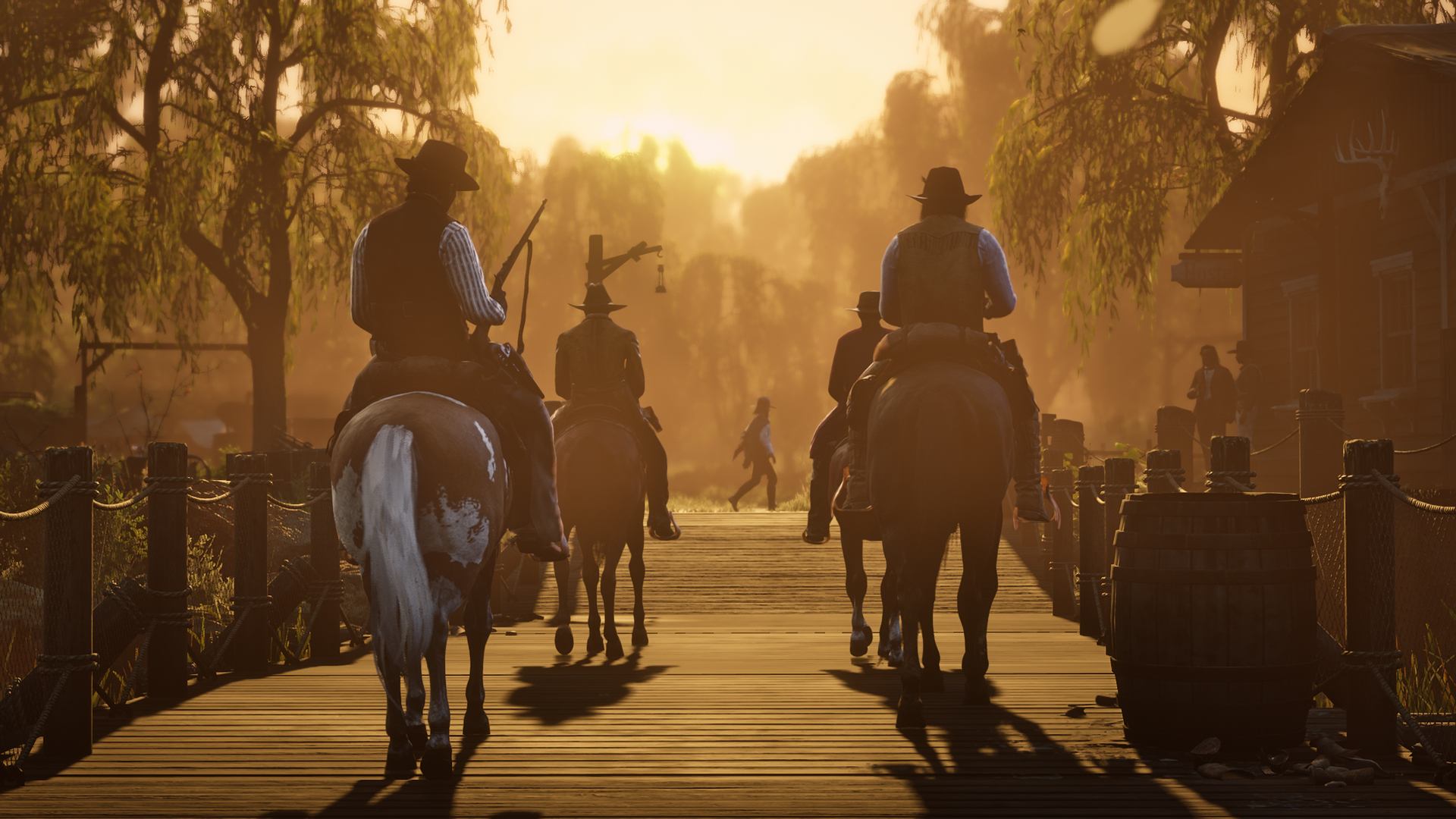 With each passing week we continue to add more to the Red Dead Online Beta, and the next four weeks will bring new Showdown Modes and Racing Modes, as well as a new Free Roam Event that launched earlier today. Alongside incorporating player feedback and addressing existing issues, the beta period has allowed us to lay the groundwork for the more advanced aspects of Red Dead Online still to come. Our experience of building other online worlds has helped us create a more evolved foundation for the open spaces of Red Dead Online, but the world of Red Dead Online will evolve in its own unique direction – one in which players have greater freedom to customize their play style uniquely over time, allowing them to sink into the world and their character and feel more connected to the experience of living as cowboys, outlaws and gunslingers in the wilds of 19th century America.
The next major update is currently planned to arrive later this Spring, bringing a host of feature upgrades and new content including:
The Hostility System
The Hostility system builds upon the anti-griefing measures added in February with smarter and responsive features that keep players immersed in the world through confrontations and PvP action. For example, players who have damage inflicted on them by attackers will be able to defend themselves without incurring Bounties or Hostility increases. Previously, the attacker and target would be marked as an enemy – now the attacker who inflicts damage will be immediately marked as an enemy to the attacked player; players will not accumulate Hostility increases for killing other players who are marked as an enemy.
Hostility increases will not apply within structured events such as Free Roam Events, Free Roam Missions, Showdowns and Races. Engaging in player vs player behaviors related to Free Roam missions will not incur Hostility increases, however attacking other players not engaged in the activity will cause your Hostility level to rise.
The Hostility System has many more functions and will help balance experiences for all play styles.
Offensive and Defensive Playing Style Options
Some players just want to immerse themselves in the world, riding, hunting and fishing in peace. We want to offer these options while allowing players to coexist comfortably alongside other players in the world. The Offensive Playing Style is much like the current Free Roam play as we know it while the Defensive Playing Style is a more evolved version of the Passive Mode concept, designed for Red Dead Online's more grounded experience – giving players more flexibility in how they interact with the world and at the same time de-emphasizing hostile contact with other players.
Choosing the Defensive option introduces balances that complement a less confrontational approach: Defensive players cannot be lassoed by rival players – although if a Defensive player lassos another player, they'll be removed from Defensive play and incur a significant Hostility level increase. Defensive players will trade the ability to lock on to other players for the benefit that other players will not be able to lock on to Defensive players.
While Defensive players can target and be targeted in free aim, they cannot deliver or receive critical hits – if a Defensive player is attacked with a headshot, they'll survive and be able to defend themselves via the Hostility system or escape all while remaining Defensive. There are several other adjustments that come with the Defensive Playing Style, all of which are built to work seamlessly with systems like Hostility and Bounties to keep all players rooted in the world.
Some other new additions include:
More A Land of Opportunities Missions: continue Jessica LeClerk's search for revenge as you explore the path of a Gunslinger or an Outlaw
New Free Roam Mission givers and mission types: Red Dead Online is set in the years before the single player story so expect to encounter a range of new and familiar faces as you traverse the frontier
The introduction of dynamic events: fight off ambushes, initiate rescues, defend folks in need and more as you travel across the world
All this, plus updates to the character creator, restructured Daily Challenges that eliminate hostile gameplay in Free Roam and introduce streaks for bigger rewards, the return of another classic weapon, the LeMat Revolver from the original Red Dead Redemption, and much more.
In the coming months, we will continue to add features and content that will allow players to immerse themselves in the world of Red Dead Online in brand new ways as they choose what kind of life they will make for themselves in frontier America.