The Journey, which debuted in FIFA 17, was the first of its kind, the first FIFA story mode that focused on a single character's career, powered by both user choice and actual match gameplay. Thanks to powerfully-rendered cinematics from the Frostbite engine, players could experience Alex Hunter's story firsthand. The story continued in FIFA 18 with The Journey: Hunter Returns, and is about to reach its dramatic conclusion in FIFA 19 with The Journey: Champions.
STORY BEGINS (THE JOURNEY)
We are introduced to Alex as he competes as a young lad for his U-11 squad in London's Clapham Common. As the scene unfolds, we also meet many of the other members of The Journey cast: Alex's childhood best friend Gareth Walker, his mother Catherine, father Harold, and grandfather Jim. After a dramatic penalty shootout, the story jumps ahead seven years to an "exit trial" at the National Football Academy in which both Alex and Gareth compete to impress Premier League scouts. This is where Alex meets Danny Williams, another promising player competing in the exit trials who gives Alex a hard time throughout the event.
After Alex completes the exit trial, he is approached by football agent Michael Taylor and eventually hires him to be his first agent. Michael gets Alex a professional contract with the Premier League club of his choice, and we later find out that Gareth also signed for the same club. The two young players attend preseason in the United States together, but Alex only plays for the club for a brief time when he finds out that the club has signed a superstar—which means that he's going on loan to a Championship club.
As soon as Alex arrives at his new club, he runs into an old "friend"—Danny Williams. Alex impresses on loan alongside Danny as the two develop a close partnership (and friendship), but he gets a sudden recall to his parent club in the middle of the season. We find out that this was due to Gareth's leaving of the club—for their biggest rival—and Alex is meant to fill his old friend's boots.
Solid performances upon his return to the club earn Alex a spot in the starting XI in the FA Cup final against their biggest rivals—and his old pal Gareth. Despite a fairly tense conversation before the match in which Gareth goes a bit too far, the two briefly reconcile on the pitch afterwards—regardless of who wins the match.
The Journey wraps up with Alex and Danny playing FIFA when Alex finds out that he's been placed on a shortlist of players likely to get a call-up to the England national team in the near future.
ALEX'S FIRST BIG MOVE (THE JOURNEY: HUNTER RETURNS)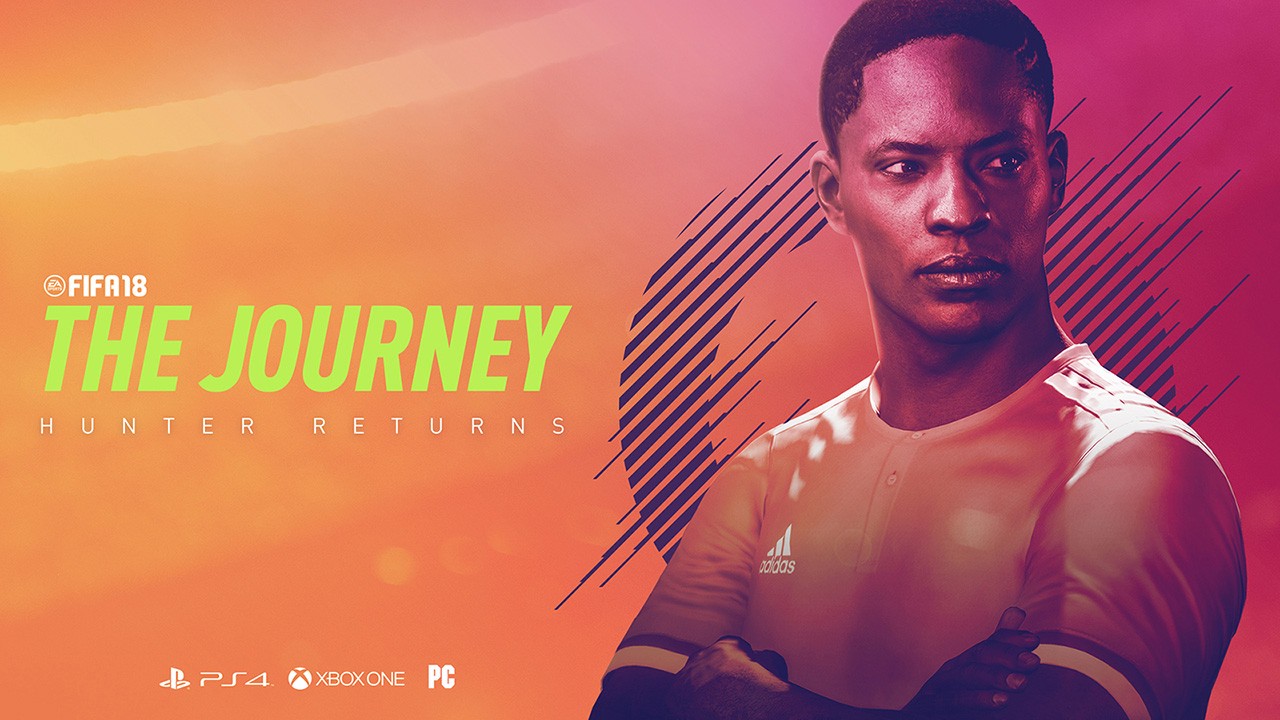 Now that he has re-established himself with his Premier League club, Alex heads to preseason in the United States to take on the likes of Real Madrid and the Los Angeles Galaxy. At the end of his time in Los Angeles, Alex runs into his estranged father Harold, who lives in the United States and wants to reconnect.
After the club returns to England, Michael Taylor contacts Alex to tell him that Real Madrid want to buy him. Fresh off facing Real in the USA and meeting Cristiano Ronaldo, Alex pushes for this dream move by handing in a transfer request. The entire deal turns out to be fake and falls through, ruining Alex's reputation with the club and its fans.
With few options left and the window closing soon, Alex chooses to transfer to the LA Galaxy after Harold calls him and helps initiate a move. Alex regains his form and confidence in MLS, helping the Galaxy reach the Playoffs (and maybe more). He also meets Kim Hunter, his half-sister that Harold had never told him about. Although he originally wanted nothing to do with Kim, Alex puts the grudge against his father aside and supports his half-sister as she earns her first call-up to the US Women's National Team.
Alex's impressive run in MLS gets the football world buzzing, and he is courted by some of the biggest clubs in Europe in the offseason. After he makes his decision and has a promising start with his new team, Alex gets a serious knee injury that keeps him out of action for months. The club ends up sending Alex to Los Angeles for rehabilitation, which gives him another chance to bond (and eventually train with) Kim.
Once he is fully cleared by the doctors, Alex goes back to Europe to re-join his club for the remainder of the season. He impresses with some solid performances to close out the season, followed by a celebratory return to Los Angeles with his grandfather Jim. After an emotional first meeting between Jim and Kim, Alex gets a call from an agent that represents some of his teammates. She requests a meeting, telling him that if he were her client he would "be a Real Madrid player right now."
Learn more about the upcoming finale to the story, The Journey: Champions in FIFA 19. For the first time in the series, you can play the complete stories of Alex, Danny, and Kim as they strive to take their careers to a new level.
Source: https://www.easports.com/fifa/news/2018/the-journey-recap