Madden NFL 20 is loaded with all-new gameplay innovations like Superstar X-Factor abilities, Face of the Franchise QB1, signature animations, and fresh playbook updates. So, we doubled-down and changed the game with a new approach to the Madden 20 soundtrack, too.
When you first pick up the sticks to play Madden 20, it will kick off a new era of what the Madden soundtrack stands for. This season, Madden put out a call to the creative community and asked them to bring to life, though their music, what football means to them. The Madden 20 soundtrack is the collective reply we received from these artists.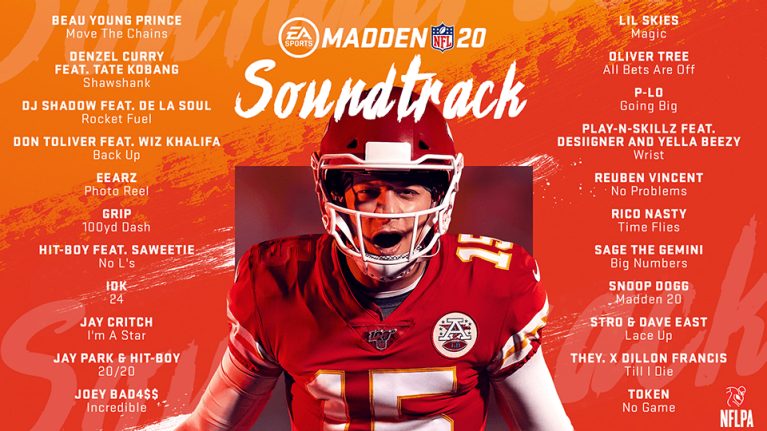 For the first time ever, a soundtrack has been specifically built with Madden NFL and football as the foundation for the aesthetic of the sound, the tone, and the feel. This groundbreaking move brings next-level creative to redefine the sound of Madden for seasons to come. The soundscape that permeates your headphones or speakers will also evoke a breadth of emotions while you play.
And that's always been true of Madden soundtracks. But this year is different.
22 EXCLUSIVE TRACKS
All 22 tracks are exclusive to the game in one way or another, with every song written specifically with Madden in mind. The soundtrack provides a platform for new artists to be discovered while simultaneously paying homage to its roots with tracks from some well-established artists.
By now, you've heard the get-on-your-feet collaboration by THEY. and Dillon Francis entitled "Till I Die" in the Madden 20 X-Factor videos.
And in the Madden 20 gameplay trailer, you get a taste of "I'm A Star" by Jay Critch, complete with New York Giants running back, Saquon Barkley callouts and additional NFL-centric lyricism. You can expect more of the same throughout this extraordinary collection of tunes.
SOUNDTRACK HIGHLIGHTS
Highlights include "Big Numbers" by Sage The Gemini, "24" by IDK, an ear worm called "Shawshank" by Denzel Curry, "Incredible" from Joey Bad4$$, "Rocket Fuel" from DJ Shadow and the legendary De La Soul, and two tracks by Hit-Boy entitled "20/20" with Jay Park and "No L's" with Saweetie.
A SONG FOR EVERY SITUATION
Whether you're in preparation mode, honing your starting lineup, celebrating a big win, or on the edge of your couch in an urgent high-stakes situation with the clock ticking away, this soundtrack has a song that speaks to every situation. This is your soundtrack to playing and feeling like an NFL superstar in Madden 20.
LISTEN TO THE MADDEN 20 SOUNDTRACK
Listen to the Madden NFL 20 soundtrack on Spotify now. The game is available worldwide on August 2, 2019.